It was announced on 13/01/2017 that The Crystal Maze will be returning to our screens this year, with Richard Ayoade set to host the show, combining two of our very favourite things!
This got us thinking, will the new reboot be a success? We certainly think it will, with the Stand Up to Cancer Special towards the end of last year proving such a hit with the public, along with the extremely witty Richard Ayoade hosting, what could go wrong?
Let's take a look back at a few phenomenons from the 90s; some have made a successful comeback, some should make a return and some should definitely never make it back into our lives:
Successful 90s Comebacks
1) Pokemon
It started in the 90s as a video game for the original Nintendo Game Boy, then burst into trading cards, a TV series and even a film. In case you hadn't noticed, it made a big return last year in the form of Pokemon Go. Although it may have been a bit of a fad, it still has a loyal following and should definitely be classed as a successful comeback.
2) Take That
One of the biggest boyband's of the 90's returned in the noughties after a 10 year split and, despite losing two-fifths of their members, still managed to sell out nine nights at the O2.
3) Furbys
Remember those fuzzy, half owl, half hamster-like creatures that would wake you up in the middle of the night? Yep, they made a comeback last year in the form of Furby Connect. This time they do more than just provide useless conversation, they can sing chart topping songs and update you on what's happening in the world. Because it's so much better when it comes from a furry lil' fella than Huw Edwards.
Should Make a Return
1) Bop it
Bop It was never a one-go thing. It's one of those toys that you could spend a good hour on and feel like it had been ten minutes. Plus, who doesn't love being insulted by a plastic steering wheel…'Do it the same, BUT BETTER'.
2) Hammer Pants
I have nothing to say except…Why did they not catch on?!
3) Toys inside cereal packets
Breakfast time was always more fun when you could pull out a pencil topper from your bowl of Coco Pops. Health & Safety ey?
Should Never Return
1) VHS
Vinyl has seen a massive resurgence in the last few years, with 2016 seeing the highest sales in 25 years. Could VHS make a comeback? Probably not. Who would swap Netflix and Amazon Prime for Mum taping over the last episode of The Fresh Prince of Bel Air.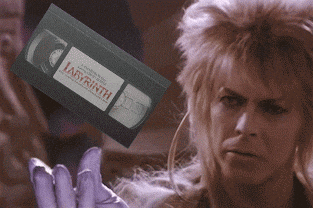 2) 90's Food
A balanced meal consisted of Crispy Pancakes, Turkey Twizzlers, with a side of Potato Smilies and a glass of Sunny D. We do miss being able to buy a Freddo for 10p though.
3) Pagers
This technology was a bit short lived due to the rise of the mobile phone in the late 90's and became redundant rather quickly. Thank God doctors found a use for those annoying beepers, someone had to.
Do you agree with us? Which 90s gems would you bring back or banish forever? Are you excited for the return of The Crystal Maze? Let us know!